Allegheny Chapter ACBS 2019 Schedule of Events

| January| February| March| April | May | June | July | August | September | October | November| December
---
JANUARY
---
2019, 59th annual Pittsburgh Boat Show January 2019

Click here to see the display.

Monroeville Convention Center 105 Mall Blvd. Monroeville, PA 15146 . Show Hours:


Friday - 5:00 pm to 10:00 pm
Saturday - 10:00 am to 10:00 pm
Sunday - 10:00 am to 6:00 pm
For more Pittsburgh boat show information,

click here. If you are interested in displaying your classic boat please contact Bob Miklos (412) 766-3180.

---
---
FEBRUARY
---
Winter / Party
Sunday February at the B.V.Y.C. or Beaver Valley Yacht Club.
It will be starting at noon till 4. Plan to bring photos and what ever else you would like to bring . Anyone who would like to bring Cookies or other desert they would be welcome..
---
---
MARCH
---
Workshop # 1
2019 Jon Woodruff's garage 1062 Highfield Road, Bethel Park, PA 15102. Coffee & Donuts 9 a.m. workshop to follow. We will again be working on Jon's 1954 Chris Craft Riviera 20'. For more information contact John woodruff412@gmail.com or (412)523-8842 or call Frank Miklos (724) 775-4849

---
APRIL
---
Spring Workshop # 2
2019 Chuck Liberatore's Garage - 126 Bakers Lane Apollo, PA 15613 Coffee & Donuts 9 a.m. workshop to follow.

From Grove city area take Rt 79 south to Cranberry get on turn pike . take pike to exit 48 Allegheny valley ,get off pike and take rt 28 north to the Tarentum exit (#14) get off exit and go across bridge ,at sixth light Rt 780 turn left , follow 780 to the end,Rt 380 , just before Rt 380 turn left on North Washington Rd go approximately 1 mile shop on right before going up large hill.

From Monroeville take Rt 22 east to Rt 286 go toward Holiday Park on Rt 286 ,once Rt 286 turns into Rt 380 go about 5 miles till you see sign for Rt 780 , turn left on 780 and a quick right on North Washington rd go 1 mile on right.

From Greensburg take Rt 66 north through Delmont toward Apollo after Delmont Rt 66 splits into four lanes twice the second time is Rt 380 . Just past Rt 380 about 1/4 mile on the left is a Citco and a Sunoco Station at an intersection turn left between this is N Washington Rd go 1 mile to bottom of long hill shop is on left.

From Kittaning take Rt 28 south to Freeport exit Rt 356 south , take 356 toward Leechburg at stop light turn left still toward Leechburg , when road splits at Stanford Home Center bear right go through second stop light just past Dairy Queen and turn right toward Greensburg on Rt 56, Rt 56 turns into Rt 66, State Police station on left , approximately 1.5 miles on right is North Washington Rd turn right go 1 mile to bottom of hill.

126 Bakers Lane Apollo, PA 15613
Any questions call me at (412)906-5947 or (724)337-6272 Chuck Liberatore

---
MAY
---
Spring Workshop #3 , May 2019
Chuck Niceleys's Garage - Allegheny Ave Applewald, pa



---
JUNE
---
Twenty-Second Annual Conneaut Lake Classic Boat Show, Saturday, July 13, and Sunday July 14, 2018
Ice House Park, Conneaut Lake, PA.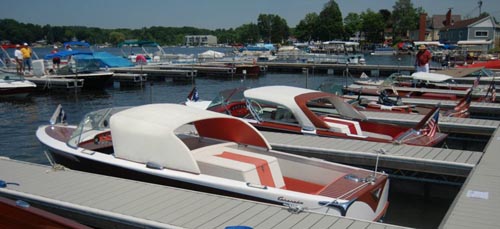 ---
JULY
---
Allegheny Chapter Picnic
Saturday TBA



---
---
AUGUST
---
SEPTEMBER
---
Fall River Trip
- TBD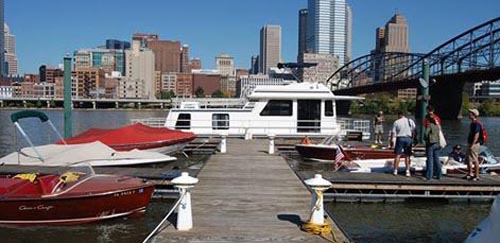 ---
NOVEMBER
---
Fall Workshop #2 , Saturday xx, 2019



TBD
Annual Meeting, Saturday November xx, 2019 following the workshop. Location TBD

---
DECEMBER
---
---
---
Home