Allegheny Chapter ACBS







22nd Annual, the 2018 Conneaut Lake Classic Antique boat show.
.
Friday night June 22, June 23, Sunday June 24, 2018. 11:00 am to 500 pm.
Ice House Park right in town on the lake, Conneaut Lake PA
Docks available Friday - Sunday ... Free lift in and out Friday evening before cruise. Saturday morning, and Sunday, 2:00 - 5:00
MORE INFORMATION COMING SOON

You can see photographs of a previous show, click here.
JPG Printable Boat Show Registration Form.
PDF Printable Boat Show Registration Form.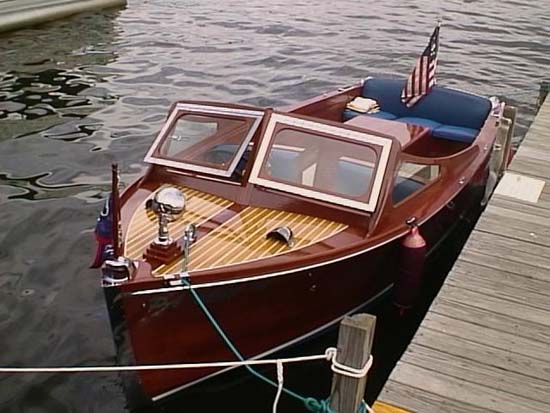 From the 1997 show a 1942 Chris Craft 17' Utility' owned by Gary Slezak, of Edinboro, PA. Gary passed away in 2000.
---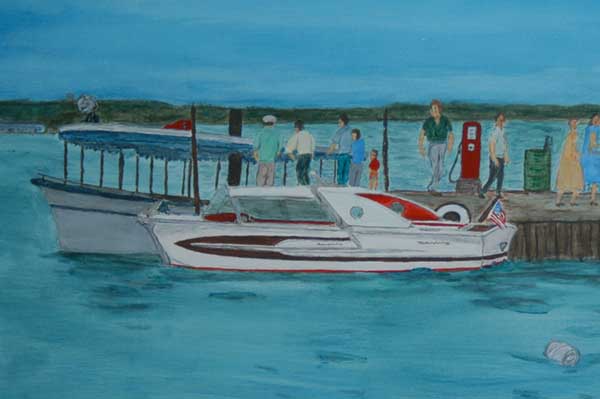 From an Acrilic painting by Frank Miklos, at the Midway Hotel docks, The Outing and the 1959 Century Coronado ride boat, along with many people. The original photo is on our vintage photographs from Conneaut Lake page.
---
---
Our annual boat show, The Conneaut Lake Classic, will be held on third Saturday of June each year, Ice House park Docks in the town of Conneaut Lake. For more information on the show contact Paul Miklos (724) 748-5642. Frank Miklos 724) 775-4849 or Email Us
Below is directions from various directions, to Conneaut Lake.
From Pittsburgh: (in 2 hours):North on I-79 to Exit 36-B; West on U.S. Rt. 322.
From Cleveland: (in 2 1/4 hours): East on I-90 to Ohio 7; right(south) to U.S. Rt. 6; turn left(east). Follow U.S. Rt. 6 through Linesville, Pa., to Conneaut Lake Pa.
From Youngstown: (in 1 hour): North on Rt. 11; East on U.S. Rt. 6 to Andover, Ohio. Tr 85 across the Causeway(Rt. 285 in Pa.) to Conneaut Lake.
From Buffalo: (in 2 1/2 hours): West on I-90 to I-79 South to Exit 36-B; West on U.S. Rt. 322 to Conneaut Lake.
---
Conneaut Lake Info.
---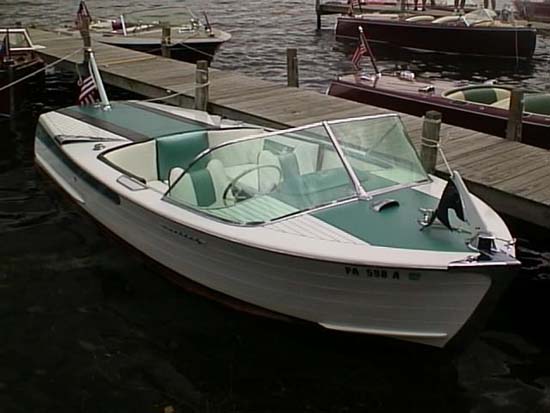 ---
1960 Century Arabian19' owned by Chuck Miklos, East Side, Conneaut Lake.
---
Below is a map showing the lake and show location as well as launch facilities.
---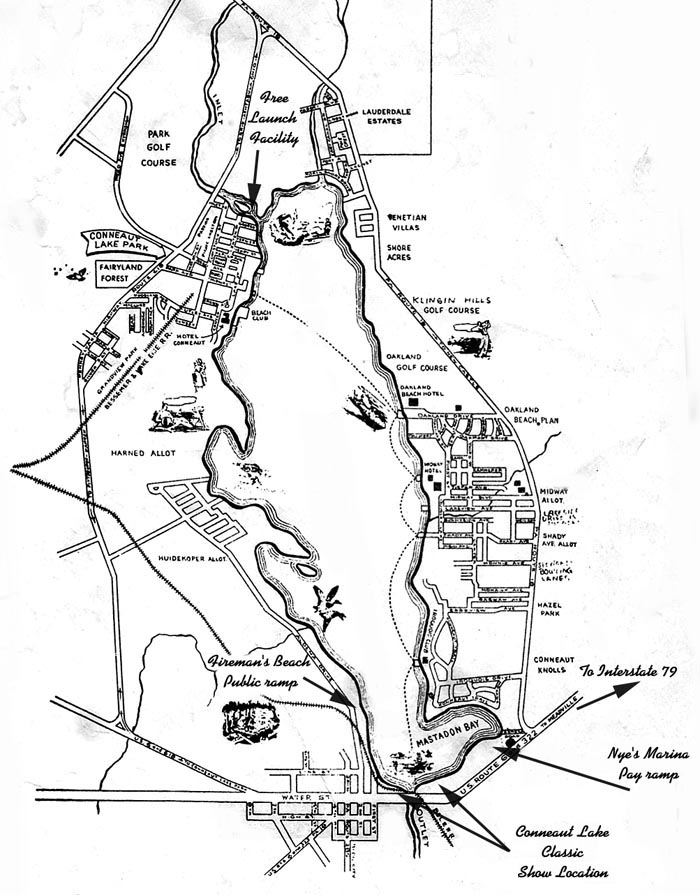 Click here for a printer frendly map.
---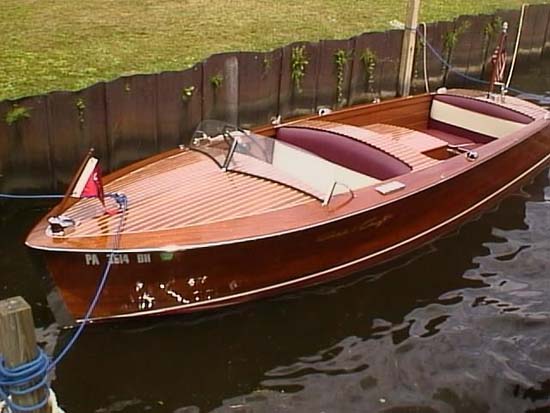 ---
1950 Chris Craft Special Runabout owned by Bob Mendocino of Pittsburgh, PA.
---
Email Us
Conneaut Lake's current time and temperature .